10 Nov 2023
Howdy folks! frequencies were updated to B23 schedule. Don, thank you for your generous donation; unfortunately, your email provider keeps rejecting my server's emails. Happy listening everyone!
13 Apr 2023
Feels good to have forgotten about the last 2 years of isolation ... or not ? Site's updated to the A23 schedule, happy listening folks and folkettes.
01 Mar 2022
Getting ready for spring, despite the weather outside not showing it yet and the current world situation. The schedule has been manually updated with the two new recent BBC broadcasts added specifically for Ukraine: the BBC is adding 2 shortwave broadcasts to Ukraine on 5875 kHz from 8/10 UTC and on 15735 kHz from 2/4 UTC.
25 Sep 2021
11 years of ShortwaveSchedule.com, my my how time flies. Anyway, database's been updated to B21 (sorry for the delay). Merry Christmas and happy holidays!
27 May 2021
So, summer's here ... really ? Updated to A21 schedules, at least. More and more stations are off the air, sadly.
Thank you again for your support: Larry B., Martin H. and Luis V. ! Much appreciated, OM.
23 Dec 2020
Wow, 9 years :) didn't put an update specifically for this yet, but the site has been updated to B20.
Dear Gerald C., thank you for your donation ! I've replied to the emails you sent me, but your email provider is blocking (for no visible technical reason) my emails. Please contact me from a different email provider, if possible - I will also write this here: access to the site has never been restricted or conditioned in any way by Paypal donations.
Merry Christmas and happy holidays to everybody !
05 Apr 2020
I'd love to start off this update with the traditional spring wishes, but alas - the whole world is in a very difficult situation at the moment. Due to this, I'll just let you know the site is updated with the A20 schedules. Happy listening from isolation/quarantine and stay clean and safe !
A small update on the geolocation problem mentioned in the previous update: looks like this is now broken on Firefox as well. From a Chromium bug page found recently, this appears to be something that will not be fixed/allowed by Google anymore, as it overloaded their services. Meanwhile, the geolocation works just fine in the official Chrome or the mobile Chrome or devices which can report actual location from GPS or WiFi ... what a surprise.
Due to this, I'd like to remind you of the "fake location" feature available in the page. You can either load this site in Chrome just once, to get the actual coordinates (or visit an alternative site, like this one, then enter the two numbers called "Latitude" and "Longitude" into the two fields after "Your currently set location". Once done, click save and you'll be able to use the site normally.
31 Jan 2020
Ooh boy, was this a fun one to debug - long story ahead. As I've mentioned before, the geo-location function used to approximate the distance to the radio transmitters started intermittently failing (this was also causing the Settings page link to be missing). The ShortwaveSchedule.com site uses the Google API (a way to have computers talk between them) for two things: to retrieve your location in the world (geographical coordinates) and do a reverse lookup in order to retrieve your address and country.
Somewhere in the past year, it became clear that Google doesn't like people using these APIs for free - so, they've started charging the developers or site owners a fee to use their system. Fair or not (considering the amount of data that Google monetizes by providing this info) ... that's another discussion. Anyway, this is the reason you sometimes see on websites the grayed-out map and the "are you the owner of this site" pop-up. For now, the site is working with a free key - this however limits the number of requests you can do to Google, after the site owner has to pay Google. Therefore, the reverse address feature will work as soon as ShortwaveSchedule.com is under the free threshold; if this is exceeded (shouldn't be), the feature will stop working.
Next, the subject of geolocation (the feature through which your physical location is mapped to geographic coordinates). This is actually standardized, so it should work evenly across all browsers. Simple, right ? well, no. Just like above, Google doesn't like this feature being used so freely by everyone, so they kinda blocked it. In Chrome (Google's own browser, which tracks every breath you take) this works just fine (duh). In Chromium (the open-source fork of Google Chrome), this feature does not work at all - bug is open here. Firefox comes with the Google geolocation service pre-configured, but set to use an invalid URL end-point. In the Firefox's address bar, type about:config, press Enter, search for geo.wifi.uri and you'll see it's set to https://www.googleapis.com/geolocation/v1/geolocate?key=%GOOGLE_API_KEY% which is now blocked by Google. To make Firefox's geolocation work again, you need to set this config to use this URL: https://location.services.mozilla.com/v1/geolocate?key=test, bug is open here. This is not something that I can fix - you need to do this on your own unfortunately.
Do you still like Google after reading the above ? think about it :) anyway, to make you feel better, I'm happy to announce that language filtering now works ! You can visit the settings page to configure your languages and they'll be saved properly now. To avoid forgeting the filter is applied, the number of languages active in the filter is now shown at the top of each transmission listing as well.
Hope you liked this update and will keep reporting any bugs you may encounter. Don't forget to contribute with Paypal to my holy grail transceiver fund, the ICOM IC-7300 :drool: :)
19 Jan 2020
Following your feedback, the broadcast days are now listed nicer in the transmission table: if it's a light blue day of the week, then the station is broadcasting that day; if it's light gray, the station does not broadcast on that day. It also seems something's broken again with Geolocation, it works on mobile but not on desktop - I'm investigating this.
19 Dec 2019
Database B19 is up! Thank you for the bug reports sent in after the (somehow forced, I admit) upgrade of the site. They're on my to do list and hope to implement them as soon as free time allows.
I'd like to wish you all a Merry Christmas and a Happy New Year ! enjoy the holidays, happy listening and 73 to all 🎅 !
17 Nov 2019
After a server upgrade, the new Beta shortwaveschedule.com is the official shortwaveschedule.com (the old code required a bit too much rewriting to be PHP 7.x compatible). The B19 database will soon be up as well.
Welcome to the new ShortwaveSchedule.com ! Send me an email to

to report bugs and send in ideas about the new site.
If you're writing to report a bug for mobile devices (i.e. you're using the site from your phone or tablet), please try to attach a screen shot to your email.
For Android devices, simply press and hold your smartphone's power and volume down button at the same time for 1 to 2 seconds. For Apple devices, press the Power button on the top right corner of your device and at the same time, press the Home button.
28 Jul 2019
Update: the address retrieval feature has been fixed (it was caused by Google's Maps changes). The distance to transmitters' locations should now be displayed as well (I know the coordinates are not exact and some transmitters are shown as being in the ocean - unfortunately, that's the data stored in the source database). Please let me know if you find any other errors.
17 Apr 2019
Long time no ... heard ! As the saying goes, the site has been updated for your listening pleasure to A19 (2019 first half) schedules. Over the next few days, I'll be also answering to pending emails - sorry for the delays.
A special thank you to Diane D. for your generous donation ! I chose this method of replying because your email server appears to be refusing my email servers' connections :)
Happy listening and a nice spring to everyone !
25 Apr 2017
All updates sent by listeners have been added, together with the country names. As usual, let me know if you find anything wrong with the transmission lists. Cheers and happy listening!
04 Apr 2017
Good news everyone! The ShortwaveSchedule web site has been updated to the A17 schedules. A few more tweaks and adding the updates sent by fellow listeners will follow shortly.
02 Nov 2016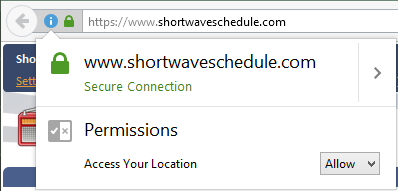 As the B16 schedule has been released, ShortwaveSchedule.com is now updated as well to serve your shortwave listening habits :-)
Important: as Google is pushing for secure content, the geolocation feature no longer works in Google Chrome if the site is being served over plain HTTP.

You need to access the web site using HTTPS from now on if you wish to use the gelocation feature - that means you need to type: https://www.shortwaveschedule.com instead of http://www.shortwaveschedule.com, in order to get a secure connection.
The little padlock icon next to the address bar has to be green, just like in the attached picture.

I still have to update the minor corrections to transmitter locations sent by the listeners, don't be afraid to remind me of your submitted changes if one of them is forgotten :) keep in touch and happy listening!
27 Nov 2015

4 years ago, I was sitting in a hotel room somewhere in the North of Africa fiddling with my new shortwave radio. Although it was a very nice hotel, the Internet connection was laggy and slow - my weekend online procrastination became more of an annoyance... therefore, shortwave radio looked to be a nice alternative to the usual browsing. I got fed up with permanent scanning for broadcasts - hence, ShortwaveSchedule was created to help in identifying broadcasts.

Happy 4th year anniversary, ShortwaveSchedule.com !
31 Oct 2015
Google's introducing a new support system for websites called "Contributor". As I understand it, you can pick a monthly contribution level and won't see any ads afterwards. As I'm always interested in testing new things, Google Contributor is now available for use on ShortwaveSchedule.com ! Let me know your opinions and feedback (i.e. it's too expensive, the site's not worth it, I'm happy with ads, anything goes). Thank you and happy listening !
31 Oct 2015
Database cleaned up, entries sorted, user-submitted changes applied - you guessed it: B15 database is now loaded. Hopefully I didn't forget anything - if you find a problem, please let me know with an email.
13 Apr 2015
With a little delay, the A15 schedule is here together with a little surprise from the Easter Bunny: the new ShortwaveSchedule site is up! Try it out at beta.shortwaveschedule.com and drop an email to me with your opinions. It's written with jQueryMobile, so it should work better on mobile devices as well. Everything should work, except the settings page which is "work in progress".
02 Nov 2014
The B14 schedules are here and ShortwaveSchedule.com is updated to show the new broadcasts. Over the next days I'll also update the data you sent by email: new transmitter locations, schedules, etc. We welcome a new broadcaster: Global 24 - certainly great news, considering the number of broadcasters which shutdown their antennas in the past months. As usual, please let me know by email of any updates/corrections you might have. Happy listening!
22 Sep 2014
Hope everyone had a good summer (or preparing for a good summer ahead, depending on your hemisphere) ! Thanks go to Edward for reporting a distance calculation bug and Marty for his donation (hope you get to read this, as I couldn't reply by email due to your provider blocking my emails). Happy listening !
08 Aug 2014
Everyone's enjoying their summer vacation right now, lounging on a beach with a cold drink... while some of us (me included) are working! Having some free time available, I managed to code one of the most requested features: language filtering. The 2nd most requested feature is implemented as well: manually specifying a location in case your browser's geolocation doesn't work or you simply want transmitter distances from other locations.
To access these settings, just go to the settings page. Here you can enter coordinates manually and check/uncheck the languages you wish to see in the transmissions list. Please note the table headers are not updated in accordance to the filter - so, as the page says: if the number of listed transmissions is lower than expected, please check your language settings.
Because I'm also a privacy fan, these settings are entirely cookie-based. There's no username/password/email required, no Google or Facebook login. The only data is stored anonymously on your computer, inside 3 small text files. You can find a link at the end of the settings page which deletes all 3, in case you wish to "start fresh". Hope you enjoy the new features - as usual, please send me an email if problems appear.
Thank you for your emails and continuous support!
06 Apr 2014
As usual, less than a week after Aoki's A14 update, you can find the new broadcast schedules on ShortwaveSchedule.com. Thank you for the reminder, Ralph :-) happy listening and a great spring to everyone!
30 Dec 2013
Happy new year and may 2014 bring many interesting catches on your antenna ! :-)
10 Dec 2013
Radio Mediterranee International is broadcasting now on 9575 kHz - thank you for the update, Reinhard !
30 Oct 2013
You know it already - autumn's here and Aoki released B13 schedule... and it's already loaded ! A small correction has been applied to transmitter coordinates (thank you Anton). Radio 6150 is now Radio Channel 292 (thank you Rainer). ERA Corfu transmitter is now 100 KW (thank you Lefteris), Col de la Madone is corrected to 400 KW (thank you Pascal). Koreean flags are corrected (thank you Phil), Spain/UK flags as well (thank you Matthew), UK/Germany flags too (thank you Michael).
Also, you can now click the big radio icon next to the page title in order to go back to the site's index page. Many thanks to all those who wrote, don't forget to write if you find any problems with the schuled. Happy listening !
15 Apr 2013
Just one week after release, the new A13 (spring 2013) shortwave schedule database is released - credits go as usual to Aoki. The main schedules are loaded now; over the next days I will apply the corrections sent by friends and users of ShortwaveSchedule. If you sent an update or a schedule correction and don't see it applied over the next week, please remind me by email. And don't forget: if you find the site useful, please consider making a donation.
15 Jan 2013
All emails in my backlog are answered now and all issues mentioned by you were fixed. Thank you for your patience and happy listening!
31 Dec 2012
ShortwaveSchedule.com wishes you a Happy New Year ! May the year of 2013 bring you all that you wish in your life together with good health and good will ! Due to a hectic end of the year, I haven't answered many of your emails. Rest assured that none of your comments and suggestions were forgotten; they will be answered and fixed in Jan 2013 - my apologies. Take care and happy listening !
29 Oct 2012
Well, autumn has arrived (even winter in some places) - that means it's time for an updated ShortwaveSchedule.com ! The new shortwave schedule (B12) is in place. Over the next few days a few tweaks and adjustments will take place (mostly aesthetic), including the updates sent by our fellow visitors. If I miss anything, as usual - please let me know. Happy listening!
26 Jun 2012
Radio 6150 has changed its broadcast frequency from 6150 kHz to 6070 kHz, database updated.
01 Apr 2012
The ShortwaveSchedule.com database is now updated with the 2012 summer schedules, which are valid from today at 1600 UTC. Good timing, I'd say. The usual cleanup and adjustments are also done. if you find the site helpful, please consider making a Paypal donation to show your support. Thanks for using ShortwaveSchedule.com !
24 Mar 2012
Good news everyone! Aoki released the A12 shortwave schedules, which you can find on his page. Of course, the new schedule will be updated on ShortwaveSchedule.com as free time permits.
03 Mar 2012
Language filtering removed due too many problems with too many browsers.
27 Jan 2011
In-page realtime filtering of the transmissions table, allowing you to quickly filter the results for a specific frequency, station name or language. For example: to display only shortwave broadcasts in english, just type "english" in the text field located under "Language". The filter also works for frequency and station name. As a bonus, the filters are kept when you navigate the site (so don't forget to clear the filters if you don't see any results). This filter was built by PicNet, congratulations guys and girls.
Unfortunately, there seems to be a bug in Chrome for Mac: the filter is only displayed the first time you access a station page. After that, it disappears. Safari and Firefox work just fine.
A minor database cleanup was also performed: 8 duplicate stations removed and transmissions consolidated.
31 Dec 2011
What a year! happy new year with best wishes to all radio afficionados.
12 Dec 2011
Added reverse geocoding to the location code which means you'll also see the name of your city besides the GPS coordinates. Finally fixed SQL queries to properly handle transmissions which start before midnight and end after midnight (this was a problem due to the way MySQL implements the TIME format, which is much worse for operations and type casting than DATETIME). Please let me know if you find any errors.
3 Dec 2011
Unfortunately, geolocation on Safari 5/Mac OS X seems to work only when you're connected to a WiFi network. Having a wired internet connection seems to be hit and miss: the location prompt is triggered, but you will not get your location displayed (and therefore, no distance calculations). More details here. Chrome and Firefox work just fine on Mac OS X. Also, if you use a web proxy, your location will be detected according to the IP address of the proxy.
30 Nov 2011
Added RSS feeds for all radio stations. When you are viewing the frequencies and schedule for a radio station, your browser should display the RSS icon for that page (top right). Subscribing to that feed will give you the frequency list for that radio station at the moment of checking the RSS feed. So if you set the feed to be checked at 1 hour, you'll have the latest updated frequency list.
28 Nov 2011
Added interference check:

means there is one more station broadcasting on that frequency,

means there are 2 or more stations broadcasting on that frequency. Click on the warning icon to see all broadcasts in that frequency.
27 Nov 2011
ShortwaveSchedule.com is live.
Contact
If you have suggestions, opinions or just want to get in touch:

.